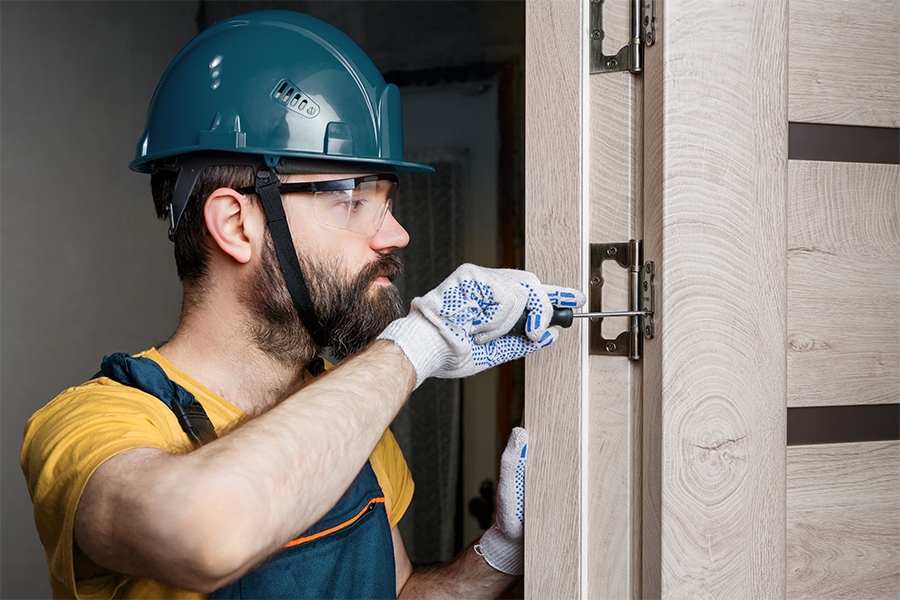 Whether you decide on hiring a contractor or working on your next DIY project, knowing how to measure interior doors is crucial. Switching out and upgrading your home's interior design is only possible if you find doors that fit your existing door frame.
Discount Hardware Direct understands that selecting the perfect door for your sliding door track is important. We strive to provide our customers with quality doors and hardware in various sizes. Keep reading to learn more about standard and non-standard size doors and how you can find the perfect match for you.
Understanding Custom Doors: Door Thickness
No matter what types of durable doors you want to purchase, selecting the correct door thickness is crucial. Door slabs are typically between 1 3/8" and 1 3/4" thick, with their thickness varying based on their use.
Most suppliers will have the 1 3/8" thick door slabs readily available for purchase, as this is the most common size. On the other hand, the 1 1/2" and 1 3/4" thick ones are still standard designs, but due to their thickness they are less used in modern homes. The thicker of the latter two, the 1 3/4" is usually used for fire-proof doors.
To correctly measure door thickness, measuring both the door and the rebate in the frame is equally important. Using a simple measuring tape, you will need to run the tape along the edge of the door to see how thick it is. Do the same to the rebate in the frame, which is where the door sits when it is closed.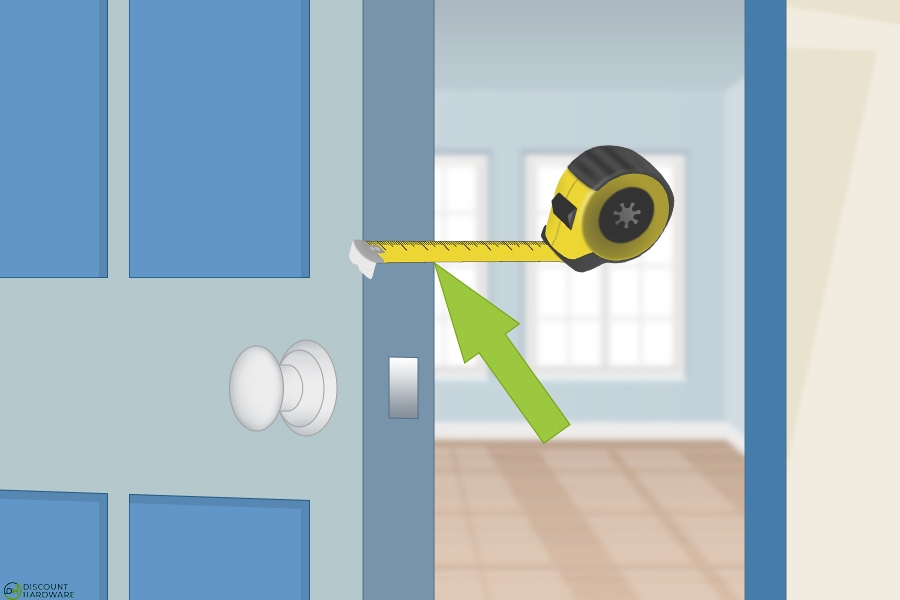 With these numbers in hand, homeowners can ensure that their new doors will have the necessary thickness.
Choosing the Right Door Width for You
The second number each homeowner will need is the width of the door. If we follow building codes, which we definitely should, we will not install doors narrower than 32 inches as passage doors. Therefore, nowadays, passage door slabs start at 32", but wider ones are also available.
Generally speaking, the wider the door is, the more accessibility it offers. Due to this, 36" doors are becoming increasingly popular for homes whose residents are experiencing mobility issues. Standard closet doors, on the other hand, are available with narrower widths. Door width sizes like 30" - 24" are reserved for closet doors, which need a shortened closet door track. In some cases, if homeowners get the local building inspector's approval, they can install 30" doors in older homes.
No matter which door width you need for your quality interior doors, at Discount Hardware Direct you can find matching door hardware for it. We strive to provide the best hardware for different door widths. For this reason, our hardware runs between 10" to 36" in width, with many types being universal (as they can be cut to length).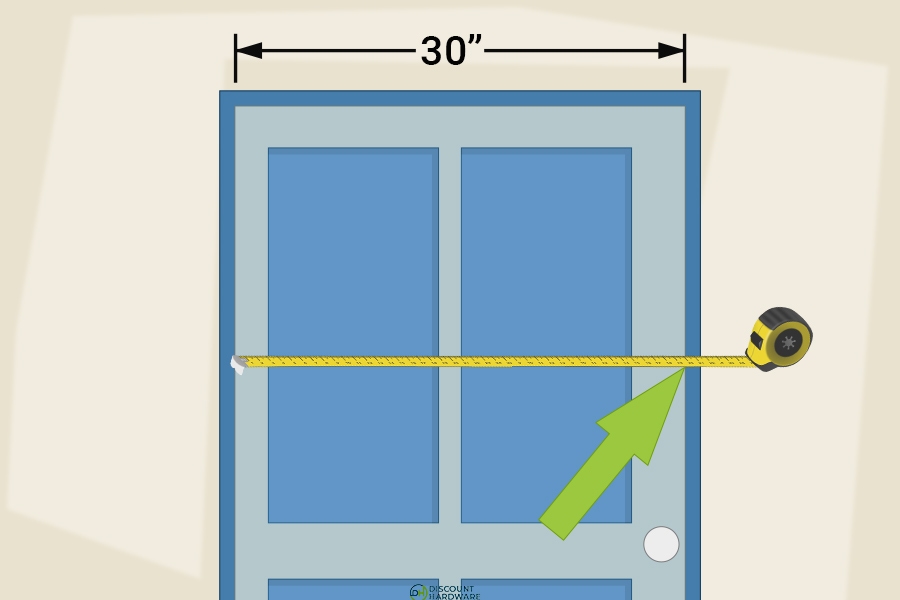 In order to accurately measure the door width, the best practice is to measure the door frame at the bottom, middle, and top. The widest measurements will be the door width you will need.
Customizing Your Door Size
Sadly, sometimes standard door slabs are just not going to work. When it comes to custom-sized interior doors, homeowners and contractors alike need to know how to provide accurate measurements. But, let's not get ahead of ourselves. First, we wish to talk about the benefits custom-sized doors offer.
The Benefits of Customizable Door Sizes:
Standard-sized doors are not for everyone. There is a multitude of reasons why you may need non-standard size doors for your home, but you shouldn't be stuck with subpar products just because of that.
While ordering those custom-size barn doors of your dreams will be more pricey, they are a good investment. By choosing customer products, we make sure the door fits our style and lifestyle, not the other way around. Bringing your own flare into interior design is what turns a house or apartment into a home.
As custom doors tend to cost more, they are also made to be more durable. You are able to control what materials, finish, and the number of doors you want, to keep costs at a decent level. But, as they are made specifically for you, custom door sets tend to last longer. In the long run, this evens out the price.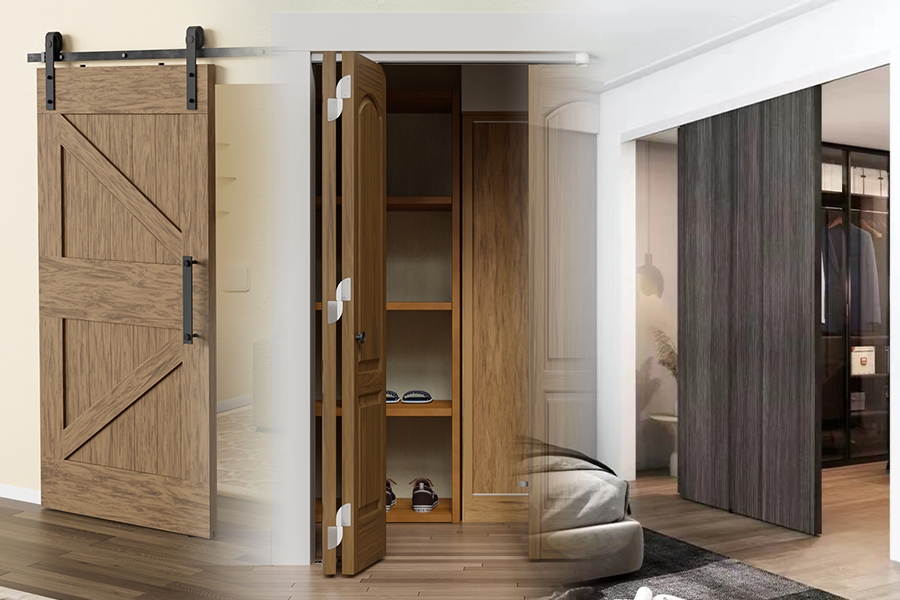 Of course, for non-standard doors, you will also need custom door hardware. Discount Hardware Direct offers a wide range of different styles of door hardware kits. Find the perfect fit for the aesthetic you have in mind among universal barn, bypass, bifold, and pocket hardware essentials.
The Accurate Measurements of Custom Sized Doors
Of course, when it comes to custom-sized interior doors, getting the correct measurements is crucial. Messing that up is a costly mistake. For this reason, it is important that when you purchase non-standard doors, you know how to measure the thickness, width, and height of interior doors.
Use the tape measure to determine the custom size of the door slab and door hardware you need:
Door Height: To learn the height of the door, run the tape from top to bottom and note the number. It is advisable to measure the door height in more than one place.

Door Width: Measure the door from left to right, excluding weather-stripping and the door frame. Check the size at the bottom, middle, and top, and write down the largest number.

Door Thickness: Run the tape along the edge of the door to learn its thickness. Measuring the edge on the edge on the door frame as well, as these numbers are not always identical.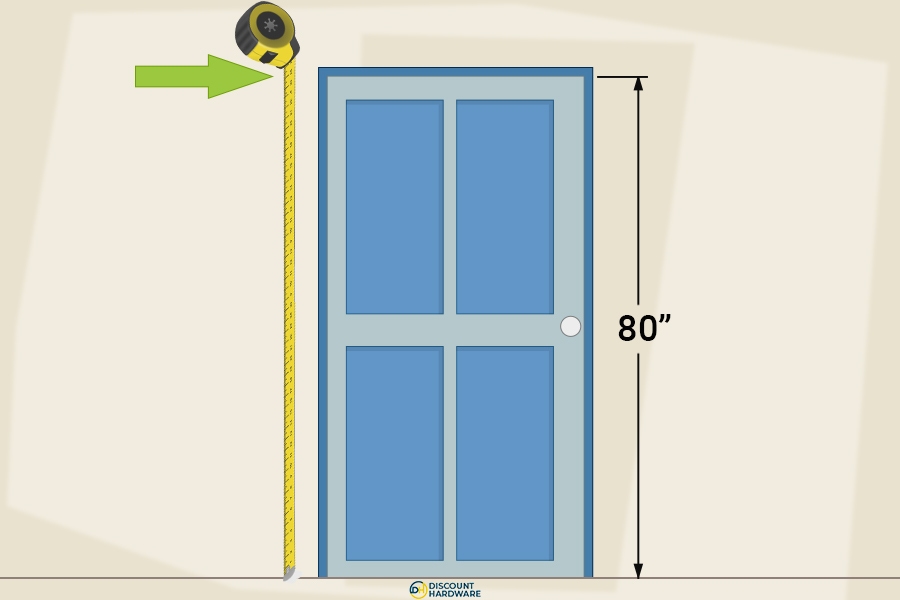 In order to play it safe, measure the height and width of the door frame as well. Based on these numbers, you will also know what type of sliding door track you will need to purchase to accommodate the door slab and the passage way.
Why Are Customizable Door Sizes Convenient?
Most modern homes sport standard interior doors, but that is not the case with all houses or apartments. Older properties have their charm, and part of that is offered by their personalized door and window styles and sizes.
They give older homes their special allure. However, these door and hardware sizes are not readily available for purchase at supply stores. Still, ordering non-standard closet doors and interior doors will let you maintain the aesthetic appeal of your home, and they even last longer.
Custom-size barn doors and their hardware, along with their other hardware-style counterparts, can be found for non-standard passages. Whether you need closet doors or interior ones, you will not regret investing in good-quality custom ones.
Quality and Durability of Custom Interior Doors Hardware
With custom interior doors, custom door hardware is also needed. At Discount Hardware Direct, we offer universal door hardware that is sure to fit both standard and custom interior doors with ease.
All of our hardware uses durable materials, designed specifically for the US door market. Yet, they can be cut to length with little difficulty. Regardless of size, durability, longevity, and smooth operations are guaranteed.
Find quality doors and door hardware at a fraction of the price! Check Discount Hardware Direct's product lineup and select the products that will elevate your home's style.
FAQ
How Tall Are Standard Doors?
The standard height for interior doors is 80". While the width of different door types can vary, typically all of them are 80" tall. If you need taller custom-sized doors, they can also be found with suppliers. Just keep in mind to keep the height of interior doors proportional to the height of the ceiling.
How Thick Are Barn Doors?
The standard thickness of doors in the barn style is 1 3/8". But, hanging barn door hardware is usually universal. In other words, if you decide on mounting thicker barn door slabs (1 1/2" or 1 3/4"), you won't have any issues as barn door hardware can accommodate 1 3/4" thick slabs.
How Thick Are Interior Doors?
Interior doors are typically 1 3/8 or 1 1/2 inches thick. You will be able to find these standard sizes at most suppliers, but the 1 3/8" thickness is more popular. However, you can find thicker doors that are 1 3/4 inches. This width of interior doors is typically used for fire-proof doors.