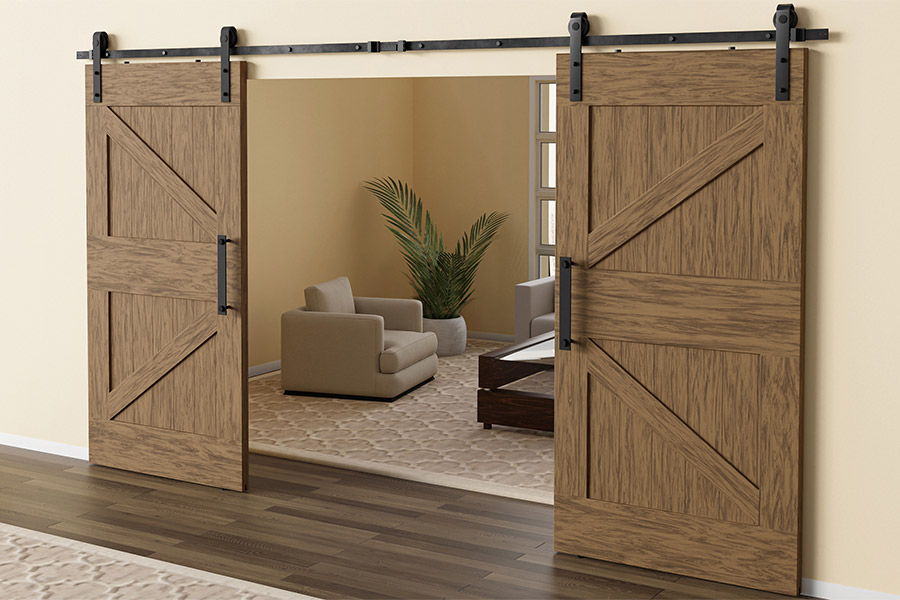 When it comes to interior doors, one of the most practical types of door openings is sliding door designs. They offer the versatility needed from doors for tight spaces and wider openings alike.
Minimizing the space necessary, a residential sliding door design is perfect for various applications. Equipping your closets and pantries with an interior sliding door system, or simply use them as room dividers to optimize your space. Not only are interior rolling doors practical, they are also stylish.
But, which types of interior sliding doors exist, and which one is the best fit for your home? Stay with us today and let us walk you through everything you need to know about the modern sliding doors design.
WHAT IS A SLIDING DOOR?
A sliding door is any door that operates on an upper or lower track, sliding to the side in order to open or close. Often sliding doors consist of a single panel, but double sliding doors for rooms are most common.
Arguably, sliding patio doors are the most well-known style, but interior design has managed to integrate these doors for different room applications. One such example of the hallway sliding door is one that may separate the hallway from the kitchen, living, or dining rooms.
HOW DO SLIDING DOORS WORK?
No matter whether it is a hanging sliding door or one that runs on tracks, the main operation of interior sliding doors is similar. They glide or roll on their tracks or hinges when they are moved to the side. This motion helps to open or close the door, minimizing the floor space required.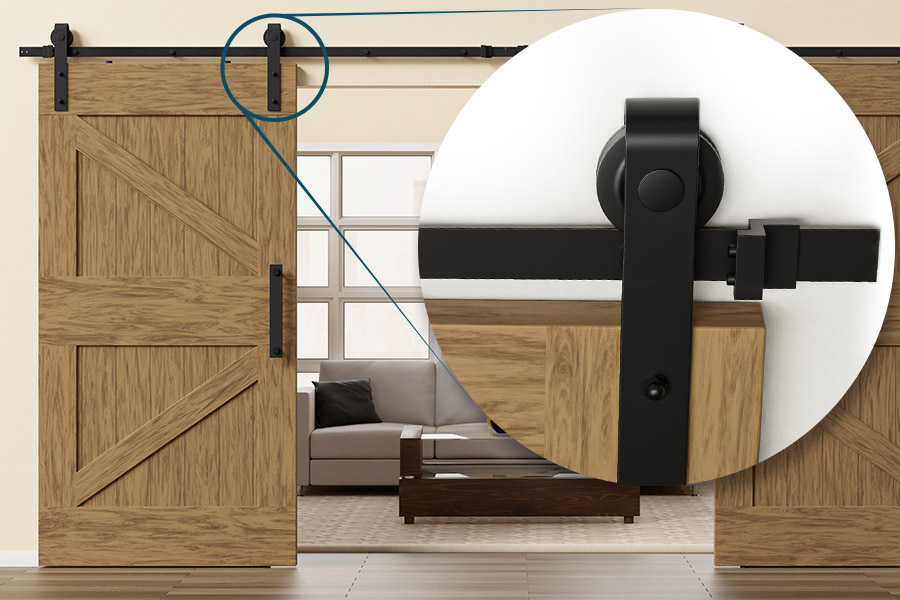 HOW DO SLIDING DOOR TYPES COMPARE TO OTHER TYPES OF DOORS?
A house with sliding doors is the equivalent of a modern home design. Yet, single or double sliding interior doors do not work for every room. If you are thinking of using sliding door options, keep the following pros and cons in mind.
THE BENEFITS OF HAVING SLIDING DOORS AT HOME:
They are the perfect doors for wide openings as they offer excellent connectivity between rooms

Wide sliding doors allow for better traffic flow, especially when they are used as patio doors

As sliding door panels often feature glass, they allow better light flow between rooms, while also offering better views

The sliding door is a space-saving modern design, which greatly decreases the space needed in the room when the door is opened
THE DOWNSIDES OF SLIDING DOORS:
Sliding door prices are higher compared to hinged doors due to the door hardware necessary

Apart from initial costs, sliding door maintenance can also be costly and difficult

If used as a patio door, glass-panel sliding doors for homes result in less privacy
THE DIFFERENT TYPES OF SLIDING DOORS WE RECOMMEND
No, not all sliding modern door designs are identical. A sliding interior door kit can come in different variations, making sliding doors very versatile. The functionality and aesthetic of each contemporary sliding door type will determine when and where it best fits in your home.
These are the different types of sliding doors for interior rooms worth considering:
Barn Doors

Bypass Doors

Pocket Doors

Bifold Doors

Accordion Doors
MODERN SLIDING BARN DOORS
Interior sliding barn doors are one of the most popular trends in interior design. They give an authentic touch to old-style homes with their rustic style, while also highlighting the appeal of a modern home. For this reason, the barn sliding door is the first on our list.
These hanging sliding doors operate thanks to an upper track and a bottom groove that they are fitted into. The barn style offers you the diversity of installing a single or a double sliding door. They are perfect for separating living spaces, as they can be used as sliding doors between kitchen and living room areas. This interior roller door is easy to install and it requires no additional construction.
You can also combine this design with bypass sliding doors in order to create barn doors that slide behind each other.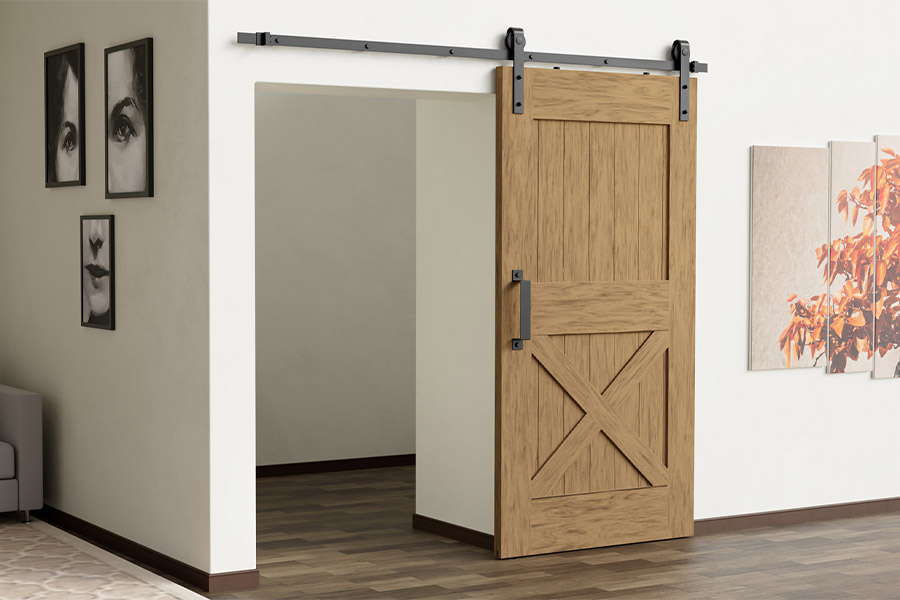 INTERIOR BYPASS DOORS
The best sliding doors for small spaces are the sliding double-door design of bypass doors. This interior sliding door type uses two or more door panels to block the passage. These simple sliding doors are often used for closets.
Such suspended sliding doors use panels that are hung adjacent to one another and slide behind each other. This allows all panels to be used consistently, making sure each standard sliding door panel allows access through the passage.
If the bypass sliding room doors have more than two panels, they can also be called telescoping sliding doors. These contemporary sliding doors can be installed instead of a house wall, allowing you to create a huge passageway between living spaces.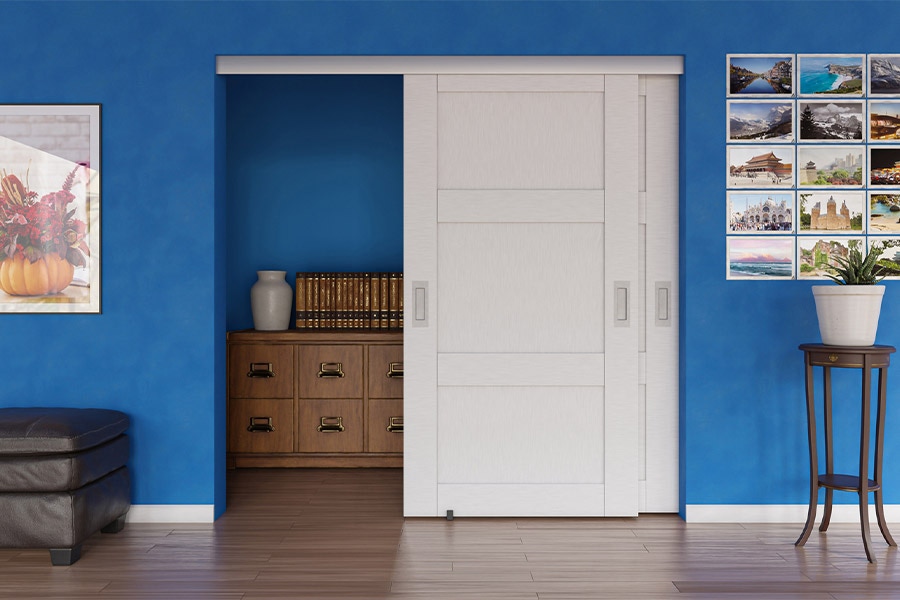 INTERIOR POCKET SLIDING DOORS
The perfect sliding door for small space rooms is the pocket sliding door. While they can be used as larger slide doors, often they are constructed for bathrooms or pantries. They offer a customized aesthetic, making the room give off a tailored, sliding door modern design.
A sliding pocket door moves into the wall when it is opened. This will require possibly some construction work in order to eliminate obstacles, like framing studs, inside the door. These residential sliding doors because popular in the Victorian era, and have not left our homes since.
This is not a wide sliding door type, but installing it can be difficult. This is due to the carpentry skills you will need if you decide on DIY-ing these sliding door styles.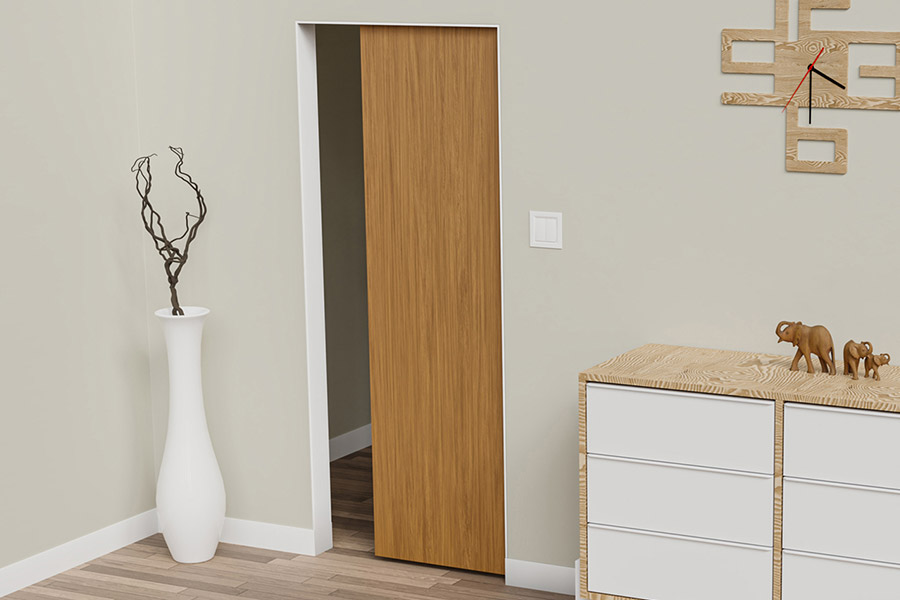 BIFOLD SLIDING DOORS
Another one of the sliding door options you should check out is the bifold sliding door. While technically this is a sliding door for small spaces, you can also install sliding double doors with the bifold style.
Single sliding doors of the bifold style consist of two narrow panels that are connected by vertical hinges. To open the door, it needs to be pulled to the side, as it runs on tracks. By doing so, the door panels fold and the door slides open. A double sliding door interior works in the same manner, only both halves need to be opened by moving them away from one another.
These modern sliding interior doors are not as space-efficient as pocket sliding doors, but they still provide an excellent alternative to hinged swing doors.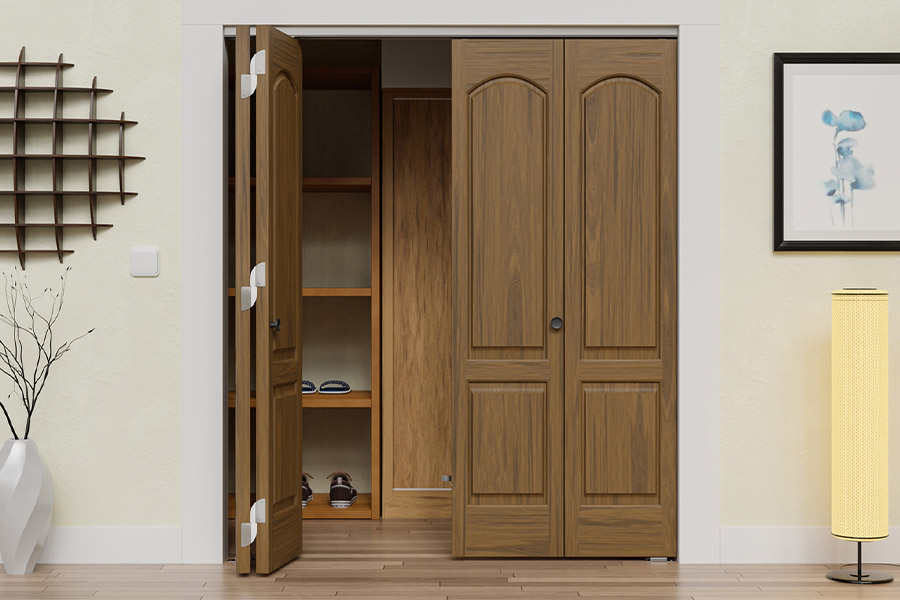 ACCORDION SLIDING DOORS
The other folding sliding doors style is the sliding accordion door, which is also called a moveable wall. This is another version of the telescoping sliding doors, only it features smaller panels. The fancy sliding door style helps to create a bigger opening between rooms, without taking up too much space.
Opening sliding doors of this style will resemble an accordion, which is where it got its name. They are perfect for home sliding door applications, especially for closet use. It is also a cheap sliding door option, which can be easily installed.
WHERE TO BUY SLIDING DOORS?
If you have the itch to buy a sliding door, the next step is to find them at a reasonable price. Surfing the net will provide you with retailers selling various modern sliding door styles.
So, where can you get cheap sliding doors, without sacrificing quality?
We have three words for you: Discount Hardware Direct!
Purchase the best interior wooden sliding doors and door hardware at the lowest prices possible. Visit our shop to find everything you will need for your next DIY or commercial project with a modern sliding door design.
HOW MUCH ARE SLIDING DOORS?
The prices for sliding doors greatly depend on multiple factors. The sliding door hardware itself can be found for about $250 maximum, but different door panels will greatly increase the price.
If you want to purchase high-end sliding doors, be prepared to spend more. Sliding glass doors and wooden sliding door design applications will not have the same retail cost. Still, nice sliding doors sets can get pricey.
For this reason, it is important to find the best solid sliding doors to buy on the market. And Discount Hardware Direct is here to help with that!
FAQ
HOW TO MAKE SLIDING DOORS SLIDE EASIER?
There are multiple ways you can make a sliding door slide better. Regularly cleaning the tracks is one of them. Not only does this improve sliding door sliding, but it also lengthens its service life. Other options are fixing bent tracks, applying lubricants, and adjusting the rollers.
HOW WIDE IS A SLIDING DOOR?
The width of a sliding door greatly depends on its type. Interior bypass sliding doors are generally wider compared to barn door style sliding doors as they consist of multiple door panels. Therefore, different sliding doors' width usually ranges between 30 and 80 inches.
DO SLIDING DOORS HAVE HINGES?
Some slide doors require hinges, but the sliding door design has the door panels run on a top or bottom track to slide open. The ones with hinges are the sliding bifold door, as they are required to connect the two door panels together in order for the door to be functional.
HOW TALL ARE SLIDING DOORS?
While there are different sliding door configurations available, most standard sliding doors are 80 inches tall. Contemporary interior sliding doors can be anywhere between 80-96 inches tall, with the most used special sizes being 82" and 96".