Exploring Modern Interior Door Handles
The most straightforward way to uplift a room and its decor is by changing up its entrance. Door knobs and levers are your first look into any room - you grab them to enter no matter what room you are going to.
Not only do they offer essential functionality to your doors, but they also make or break an interior design. Selecting the correct door hardware is crucial for your safety and leisure.
From traditional door knobs to more modern door levers, let's talk about the different types of door handles available for sale on the market.
Choose from Door Handles with Modern and Minimalistic Designs
You can find the best door handles for interior doors with a modern touch! All Discount Hardware Direct door handles were designed to fit contemporary home designs easily.
Sometimes simplicity is key! The addition of a modern, standard door handle with a neutral finish will not ruin your design. Knob and lever style interior door handles feature clean lines, geometric shapes, and striking curves that are sure to highlight any aesthetic.
Door Knob or Lever, Which One to Choose?
When the time comes to buy door handles, the evergreen debate of door knobs vs levers comes into play. Style and functionality will sway your choice. Of course, both design choices have their pros and cons, and your needs will greatly determine which one you decide on.
You can find the short summary of the different types of door handles below, but if you are looking for a longer explanation, check out our blog: Door Knobs vs Levers (Modern Door Handles Guide).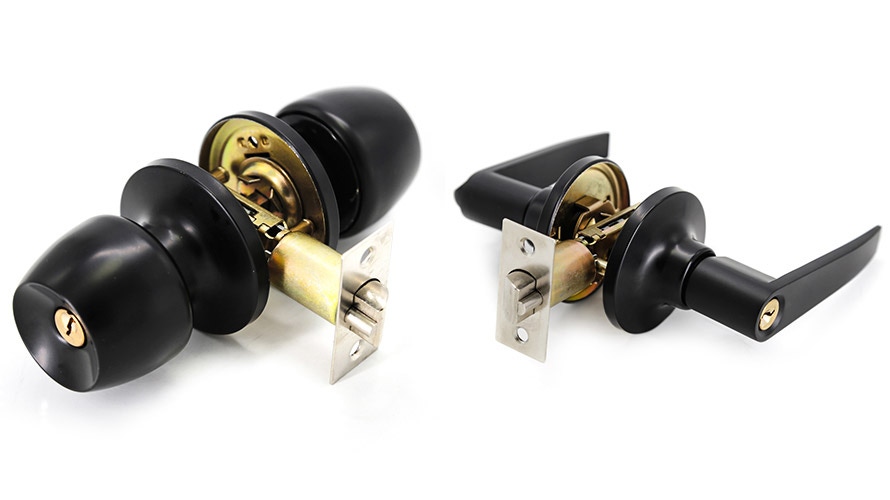 Door Knobs are Timeless
Simple door knobs have been around for centuries. They have evolved with our needs and now you can find versatile door knob handle styles available with easy installations. Interior door knob styles are the perfect choice for traditional homes, but they can effortlessly fit into modern aesthetics as well.
Choose Door Levers for Convenience
Interior door handles for homes have been around for a long time as well. But by adding the lever to the design, a separate door handle category was created. As they offer better grip compared to knobs, door lever handles quickly grew in popularity. They are also manufactured in different styles that fit both traditional and modern homes.
Different Types of Door Levers for Your Home
When it comes to internal door handles, you can find versatile styles available that will suit your home design, project, or renovation. However, it is important to know what different kinds of door knobs and levers can be found on the market.
Lever Door Handles on Backplate
This door handle set offers the classic lever style we all know. The lever handles for doors that use a backplate are the perfect fit for traditional decor. Usually, these residential or commercial door handle styles can be purchased with or without keyholes, or with thumb-turns (privacy design).
The modern lever door handle on backplates offers the choice to hide screws and mechanisms to provide a more contemporary appeal. Furthermore, backplates are sold in various sizes and designs, allowing consumers to match them to different interior styles.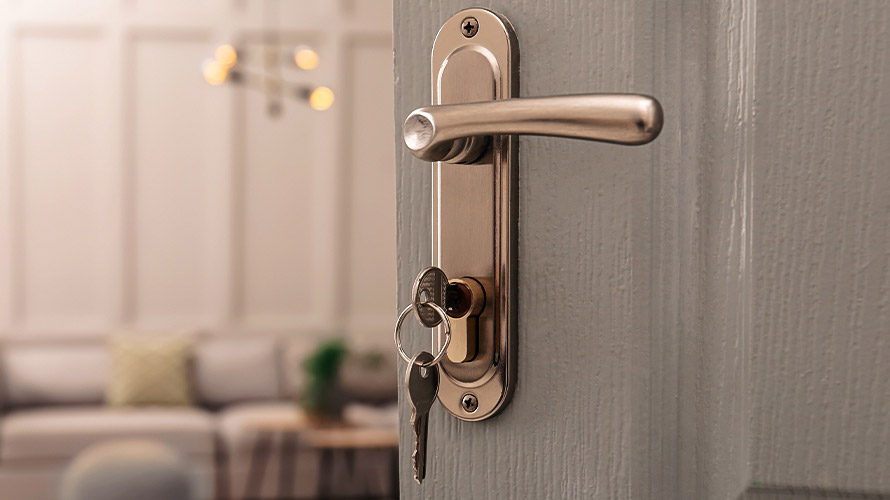 Interior Door Levers on Rose
The lever inside door handle can also come on a rose. Basically, the rose is the lever handle's plate, which can be round or square-shaped. A lever handle on rose helps to hide screws and other fixtures, preventing them from taking away from the stylish handle finish.
Depending on the styles of door handles you need, the rose can be combined with locks, thumb-turns, or latches, making this design perfect for interior door handle applications.
Crown Door Lever Handle by Villar Home Designs - Square Rose
The Crown is a lever-style, modern interior door handle that offers an elegant, minimalistic aesthetic. These simple door handles come with a 2-year limited warranty, thanks to the durable manufacturing.
The lever type door handle was produced using zinc alloy, which increases its strength, enabling its commercial-grade applications. Additionally, a scratch-resistant coating was used with both black and chrome finishes. This helps to avoid cosmetic damage, lengthening the time between replacing door handles.
This square-shaped, high-end door hardware is easy to install. It also sports a steel, round-corner adjustable latch. These improvements make the Crown metal door handle perfect for residential and commercial applications. It is available in keyed, passage, and privacy functions.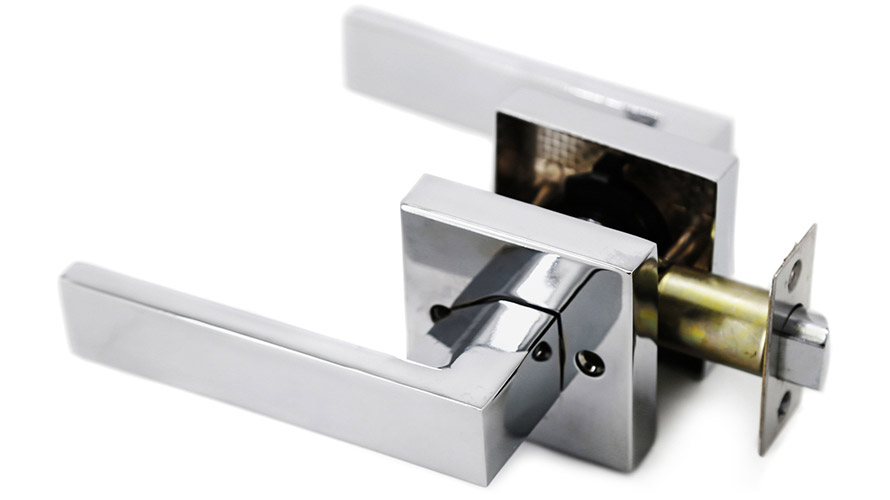 Lara Door Lever Handle by Villar Home Designs - Round Rose
If you are looking for a rounder design, the Lara interior door level. These round rose lever type door handles are sold in keyed, passage, and privacy functions. Shop door handles confidently as the Lara door lever sets come with 2-year limited warranties.
It is available with matt black, chrome, and satin nickel finishes, allowing you to match your interior design flawlessly. Below the finish, you will find stainless steel that greatly enhances its durability. These types of door handles are suitable for residential and commercial applications.
This modern door lever was designed in Germany. Not only is the lever made from stainless steel, but the round-corner adjustable latch is as well. The Lara door hardware handles are coated with a special scratch-resistant surface.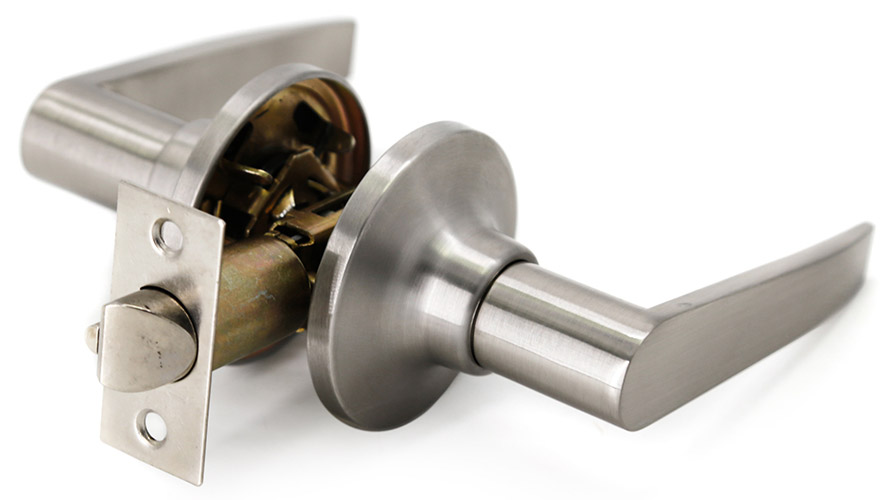 Different Types of Door Knobs at Discount Hardware Direct
The other types of interior door handle designs are door knobs. They are most often associated with traditional decor, but trendy door knobs can be easily found on the market as well. A set of nice door knobs will instantly brighten up the room.
Keyed and Privacy Door Knobs
For rooms that require some privacy purchasing a home door handle that can be locked is the ideal option. You have two options: a privacy door knob or a keyed door knob handle set.
There is a slight difference between them. If your new door handle has a privacy function, that means that it can be locked by turning the locking mechanism on the inside of the door. Worry not, even if a child locks themselves into the bedroom or bathroom, these modern door handles interior design can be opened with the use of a thin generic key.
On the other hand, if a keyed door handle design is locked and the key is lost, you will need a locksmith. While they are typically for front doors, these can function as door knobs for interior doors as well. Just keep in mind that a key is needed to lock the door.
At Discount Hardware Direct you can find indoor door knobs that can be purchased with both functions.
Pick the Versa Door Knob by Villar Home Designs
The best door hardware can be purchased with different functions. This is exactly how the Versa door knobs handles are sold. Select what fits your need the best, from keyed, privacy, and passage functionalities.
Using a durable zinc alloy covering, these stainless steel door knob types are perfect for residential and commercial door knob applications. The scratch-resistance surface minimizes the possibility of cosmetic damage, lengthening the door knobs' service life. This door knob style comes with a 2-year limited warranty.
These door handles and knobs are available with three distinct finishes. Purchase your new door knob handles in matt black, chrome, or satin nickel colors and freshen up your interior style effortlessly.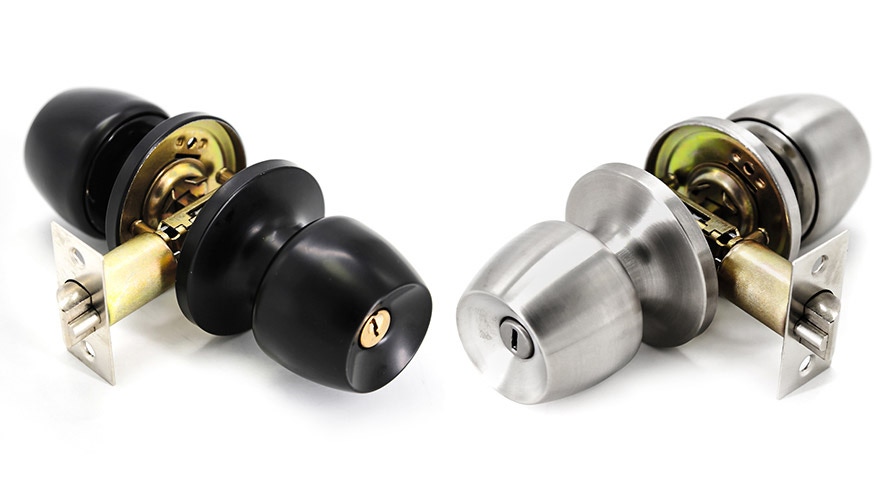 Passage Door Knobs
The most simple door handle is one that comes with passage functionality. Standard door handles with a passage functionality are typically used for areas that don't need privacy. This type of handle door knob uses a simple latch that turns when the knob is rotated. As a result, it opens the door.
Single and Double Dummy Door Knobs
Dummy door handles for sale do not have the same functionality as the rest of the door knob types. They are mostly decorative lever door knob, which is available as a single or double knob.
A single dummy means the knob or handle was mounted on one side of the door. This is usually the side that is visible. Meanwhile, a double dummy can be mounted in different ways. They are a matching set installed on a single doorway, but they can be added on two sides of one door, or on separate slabs.
Often they are added to doors that do not need to be secured, like linen closets, pantries, etc.
Dream Door Knob by Villar Home Designs - The Solution for Both
The Dream door knob is available with passage and dummy functions. While it offers privacy, these door knob shapes are able to highlight modern room decor easily. Purchase it with a matt black or satin nickel finish!
Quality and durability are ensured, thanks to the German design. These round door knobs come with a 2-year limited warranty. A scratch-resistant coating is used to protect the knob from cosmetic damage. Additionally, a durable zinc alloy material was used to manufacture this door knob type, which ensures its commercial and residential applications.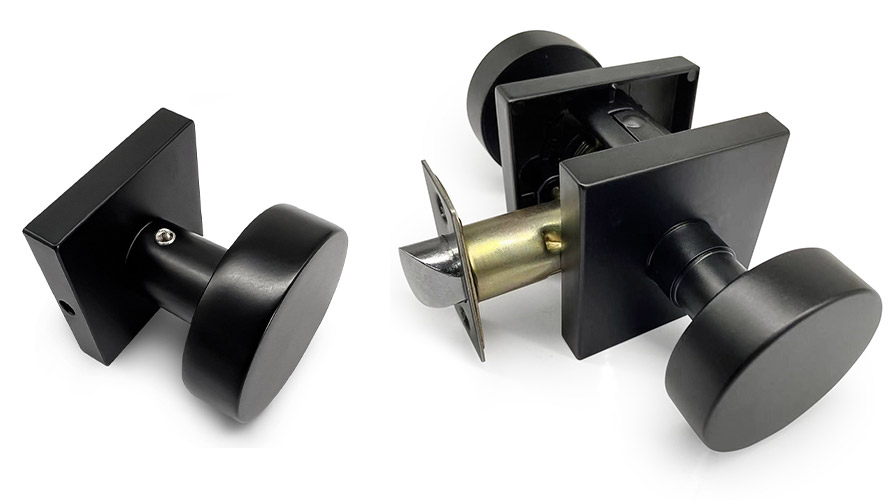 Door Handle Finishes
The last step is to consider the door finish that fits your interior design the best. The most common door lever and door knob finishes are:
Satin nickel finish

Matt black finish

Chrome finish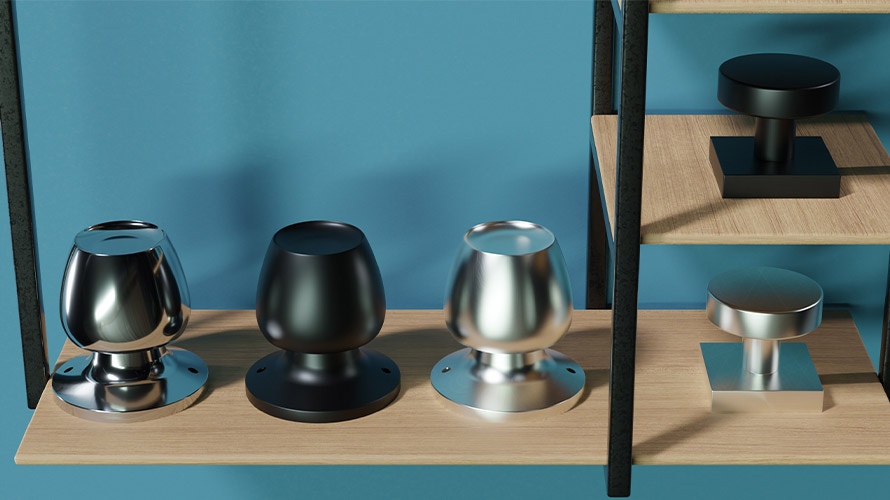 Satin Nickel Finish
The newest trend on the market is the satin or nickel finish of door handles. This finish is the perfect low-maintenance alternative for the chrome finish. The satin finish for door knobs or handles features a subtle gloss, which prevents smudges and fingerprints from showing. This makes the door handles easier to clean, making them perfect for busy households or commercial buildings.
Matt Black Finish
A standard door knob with a matt black finish provides a sleek aesthetic, which has made this door hardware finish so popular. Whether it is used for furniture pieces or interior doors, such handles uplift the home decor effortlessly. It creates a luxury appeal, especially when the bold black color is in contrast to white or neutral backgrounds.
Chrome Finish
The most common finish used for door handles is chrome finish. This one creates the perfect blend between the door handles and the interior design, giving it a timeless appeal. Often they are used for more modern homes, as they pull towards minimalism, but they will easily fit into traditional homes as well.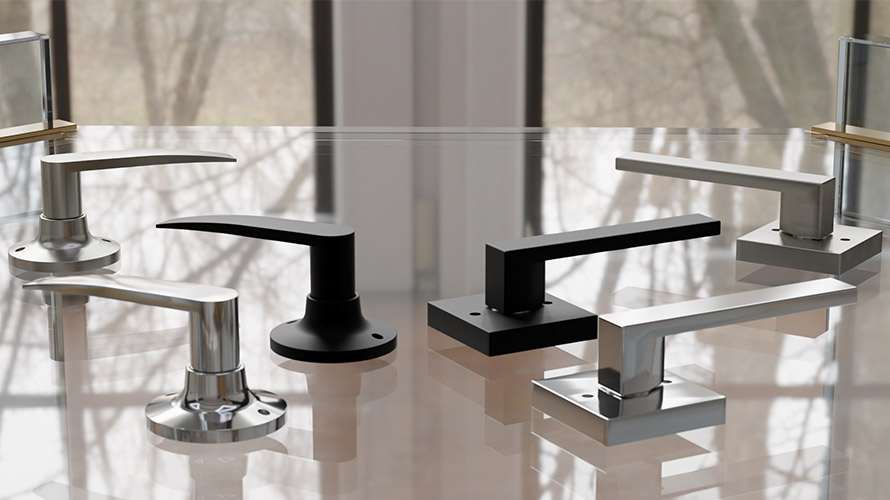 Shop for Modern Interior Door Handles at Discount Hardware Direct
Discount Hardware Direct is the best place to buy door knobs and levers. Find different door lever and door knob designs suitable for your next (DIY) project or renovation. Whether you are looking for an interior door handle replacement or new interior lever door handles, you can find them at discounted prices.
All of our interior door handles (knobs and levers) are adjustable for 2 3/8'' or 2 ¾'' backsets. They are developed for universal specifications, perfect for standard U.S. predrilling and doors.
Quick to Install Residential and Commercial Door Handles
Finding interior door lever handles and knobs that are easy to install can be though. On top of that installation services can be expensive, especially if you own special or customized doors in your house or business.
Discount Hardware Direct is here to help! We offer the best cheap door handles available on the market, which will not cause you issues during installations. Check our inventory and find the one that suits your decor style and needs.
FAQ
Are Door Knobs or Levers Better?
Whether door knobs or levers are better for your project will depend on a couple of factors. Door knobs offer a traditional esthetic, but they offer less grip compared to levers which are not ideal for commercial buildings. The lever-style door handles are easier to operate, but they might bot fit the design of older homes.
What Is the Difference Between Passage and Privacy Door Knobs?
The main difference between passage and privacy door levers or knobs for interior doors is that the privacy design can be locked. The passage door handle types are for general access doors, such as hallways, living rooms, etc. Privacy indoor door handles are for private rooms like bedrooms or bathrooms.
Are Door Knobs Universal?
Unfortunately, door knobs are not universal. However, modern door knob design is versatile, and each home door hardware style can be easily found. When purchasing new door handles consider the basket, the hole diameter of the door knob placement, and if the knob is for an interior or exterior door to find the perfect match.