Cabinet and Dresser Drawer Pulls for a Flawless Look
Whether we are talking about cabinet drawer pulls or dresser handles, selecting the perfect modern hardware pulls creates a huge difference. They are the accessories of your interior design and using them thoughtfully and make or break the aesthetic you are going for.
However, with so many options, it is hard to choose. Finding trendy drawer pulls for dresser, cabinet, or drawer applications does not need to be complicated. To make things easier for our customers, at Discount Hardware Direct, we have decided to create this guide.
Why Should You Buy Cabinet and Drawer Pulls?
While they are the more expensive option compared to knobs, cabinet and dresser pulls are a great option if you are looking to upgrade your furniture. They are available in versatile designs, suiting both modern and traditional aesthetics easily.
Additionally, these furniture pulls are offered in many categories. You can choose between bar pull cabinet hardware, bin pull out drawer hardware, and ring pull out cabinet hardware, depending on your preference. Yet, all of them work in the same manner - letting you pull out the cabinet or drawer easily.
Pulls are often considered to be the best cabinet hardware as they offer better grip than knobs. The elderly and children will be able to open them easier. But, apart from their functionality, they also come in different stylish designs. Find contemporary cabinet pulls to match your modern interior design or classic drawer pulls that highlight a traditional aesthetic.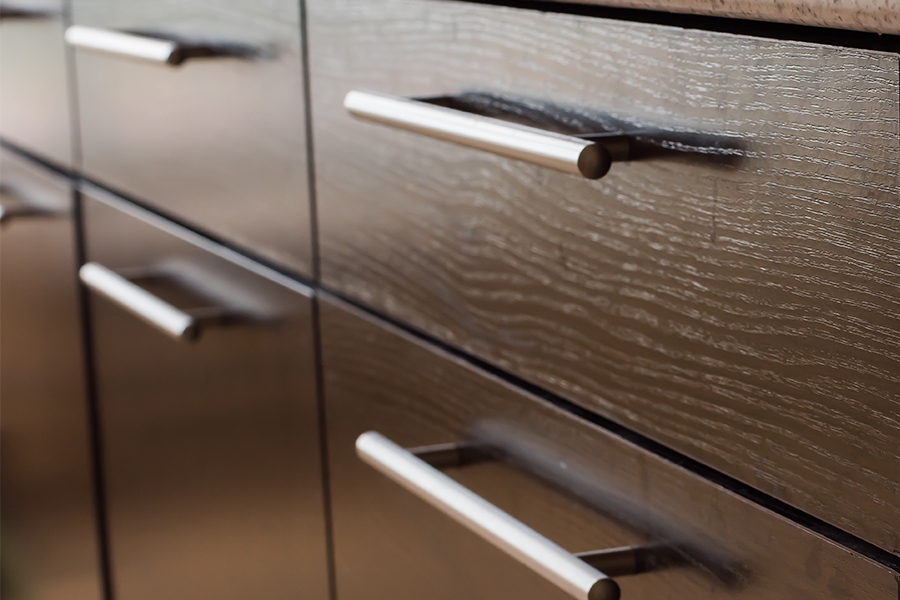 Where to Buy Cabinet Pulls?
Modern handles for cabinets and drawers are not that hard to come by. However, purchasing from the right supplier is crucial to ensure longevity as not all cabinet pull out hardware is created equal.
At Discount Hardware Direct we offer durability, longevity, and style. Keep reading to find out what type of modern cabinet pulls we offer for sale.
Types of Cabinet Drawer Pulls at Discount Hardware Direct
Drawer pull hardware is available in different styles. The design and color you choose will determine how your new cabinet handles will fit your interior design. Choosing drawer pull types that are both practical and aesthetic is important. After all, you will be looking at them for a while.
Rounded Corner Aluminum Drawer Pulls
Residential and commercial cabinet hardware can be easily found in the styles you want. These rounded corner modern dresser handles are available in lengths between 3 3/4" and 10 1/16". Chose from gold, black, or satin nickel finishes.
These solid cabinet pulls were manufactured using aluminum. This provides excellent moisture resistance and makes the front mount drawer pull more durable. Furthermore, it also features an oxidation-preventing covering, which minimizes the possibility of rust forming on these contemporary cabinet handles.
These modern dresser pulls are suitable for various applications, including kitchens, closets, cabinets, and shelves. The Italian design modern cabinet door handles come with a 2-year warranty.
This rounded corner hardware for desk drawers offers:
Easy installation

An extra screw with each handle

Solid-core manufacturing for more durability

2-year limited warranty

Moisture- and oxidation-resistant
Stainless Steel Square Cabinet Pulls
The square cabinet pull is manufactured using stainless steel - what can be better than that? This stainless steel cabinet pull is available in sizes 3 3/4" to 10 1/16", and in black and satin nickel finishes.
Its surface features an anti scratch coating, that protects the desk hardware pulls from surface damage. Additionally, it also offers moisture and oxidation resistance, ensuring its longevity. The stainless steel drawer pull is more durable as well. These Italian design cabinet drawer pulls offer universal applications for residential and commercial areas.
Easy installation is guaranteed, as these dresser drawer handles. By making this purchase, you will receive 1 additional screw with each handle. This cabinet pull stainless steel design is offered with a 2-year limited warranty.
Consider getting these modern cabinet door pulls for:
Simple installation

Universal applications, with various sizes available

Designed in Italy

Comes with a 2-year warranty

Scratch-resistant coating
Stainless Steel Round Drawer Pulls
The double-T pull cabinet hardware is also manufactured from stainless steel. While it resembles a stainless steel bar stock, it is actually a modern drawer pull that offers a sleek aesthetic in various applications, in both residential and commercial uses.
Choose between black and satin nickel finished and from sizes ranging from 2.1/2" to 10 1/16". Longevity is guaranteed witht this modern drawer hardware thanks to its 5 layers of scratch-resistant coating. It also offers prevention of damage caused by oxidation and moisture.
These double T-handle cabinet pulls were designed in Italy. It features a stainless steel round tube with two legs that create the handle, offering a minimalistic aesthetic. We offer a 2-year limited warranty with each pull. Use such cabinet drawer pulls for kitchen, bedroom, and bathroom applications without issues.
This hardware for dresser drawers and cabinets is worth it because of:
Simple installation and universal use

Scratch and other damage-type resistance

2-year limited warranty guaranteed

Different finishes and sizes are available

Perfect for minimalistic decor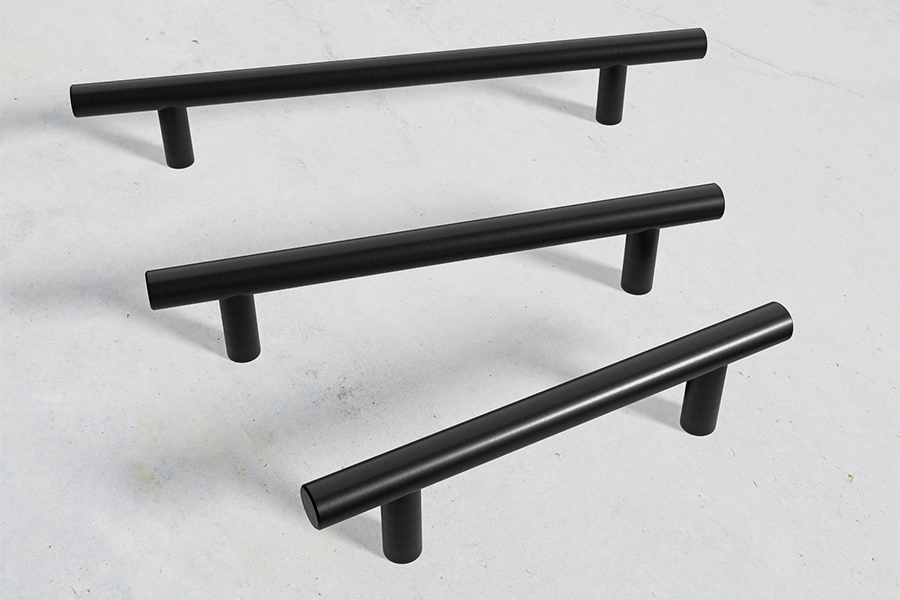 Choose Your Cabinet and Drawer Pull Size Wisely
When it comes to modern pull handles, design cannot sacrifice functionality. One crucial part you need to consider before purchasing those sleek cabinet pulls you found is their sizing. While the sizes of quality cabinet pulls will vary depending on what you are looking for, knowing their measurements is still advisable.
Typically, bar handles for cabinets are measured center-to-center. In other words, these center to center drawer pulls look at the distance between the two screw holes (not the length of the entire cabinet pull bars).
When buying (replacement) drawer pulls for pre-drilled furniture, this information is necessary. Don't go buying dresser hardware handles without it. You will have more leeway when the furniture is not pre-drilled, but even then drawer pull placement will determine the maximum length you can purchase.
Here's a simple guideline for the size of cabinet pull styles:
Large cabinets (36" or larger) require longer handle pulls between 6 to 12 inches in center to center cabinet pull measurements

Standard cabinets (12" to 36") need draw handles that are 3 to 5 inches in length

Small cabinets (usually under 12" or narrow drawers) will equip small drawer handle models, that are usually up to 2 inches long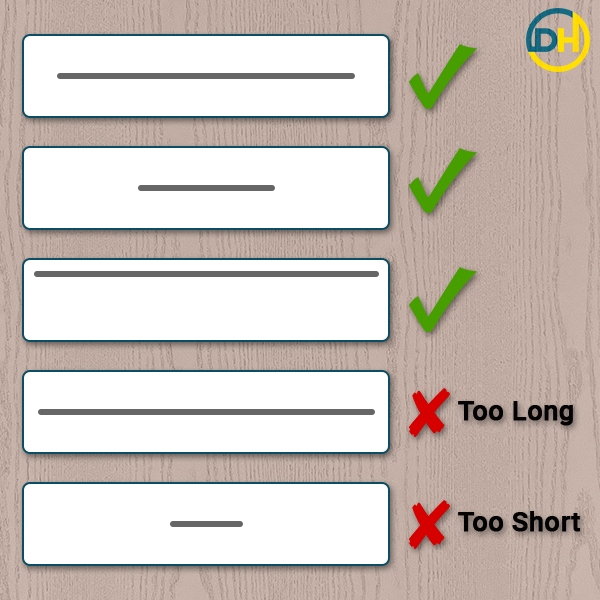 Find the Right Cabinet Hardware Finish for Your Home
The main colors for drawer pull styles are gold, black, and silver. However, there are numerous other variations available on the market. To take things further, often the finish of these drawer pull handles is not shown as the before-mentioned colors. Instead, fancier, unique finish color names are used by sellers.
Don't let this deter you. Things don't need to be complicated. Let's take a look at the main three modern cabinet pull colors in detail.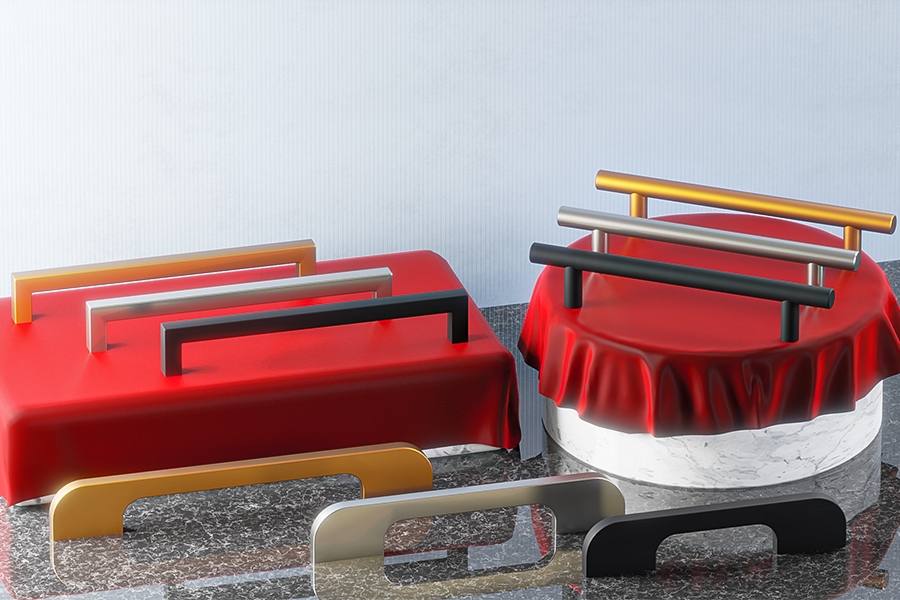 Matte Black Cabinet Hardware Finish
Apart from "matte black cabinet pull" you can also find modern drawer handles categorized under different names. Some of them include oil-rubbed bronze, satin black, black iron, aged bronze, etc.
However, when it comes to black modern cabinet pulls, there are basically two main categories. An oil rubbed bronze cabinet pull will have a warm brown undertone, while matte black cabinet pull handles are entirely black.
Gold Cabinet Hardware Finish
What color are brushed brass pulls? Gold! That's right, gold drawer pull designs have also earned many unique names over the years. Most brass hardware pulls are different shades of gold. You can find them mentioned as bright brass, aged brass, antique brass, satin brass, etc.
The main distinctness between when is visible in their shininess, for lack of a better word. Polished modern brass drawer pulls have reflective surfaces and offer warm undertones. On the other hand, a satin brass gold cabinet pull features a brushed style that offers less warmth, but more golden hues.
Silver Cabinet Hardware Finish
The third type of modern cabinet handle color is silver, which can also be called chrome, satin nickel, or polished nickel. While each category has its own variations, all of these modern drawer pulls offer their own aesthetic.
The difference between these silver modern cabinet handle colors is simple. A chrome cabinet pull features a reflective surface and offers a bright design. A satin nickel bar cabinet pull provides a more brushed design, with cooler undertones. Warm undertones are ensured with polished nickel drawer cabinet pulls - these can be easily mixed with various different metals.
How to Mix Cabinet Hardware?
Various styles of cabinet drawer pulls can be mixed, but only if you go about it carefully. Of course, completely different styles and finishes should never be used together in one room. It will ruin the cohesiveness of the room.
BUT, and it is a capitalized "but" for a reason, when done correctly mixing knobs and pull hardware for drawers is possible, as long as the hardware complements each other. Spicing up your interior design can be easily done by using knobs on all drawers and pulls on all cabinets. Just make sure the different hardware is similar enough (same finish, same style, etc.).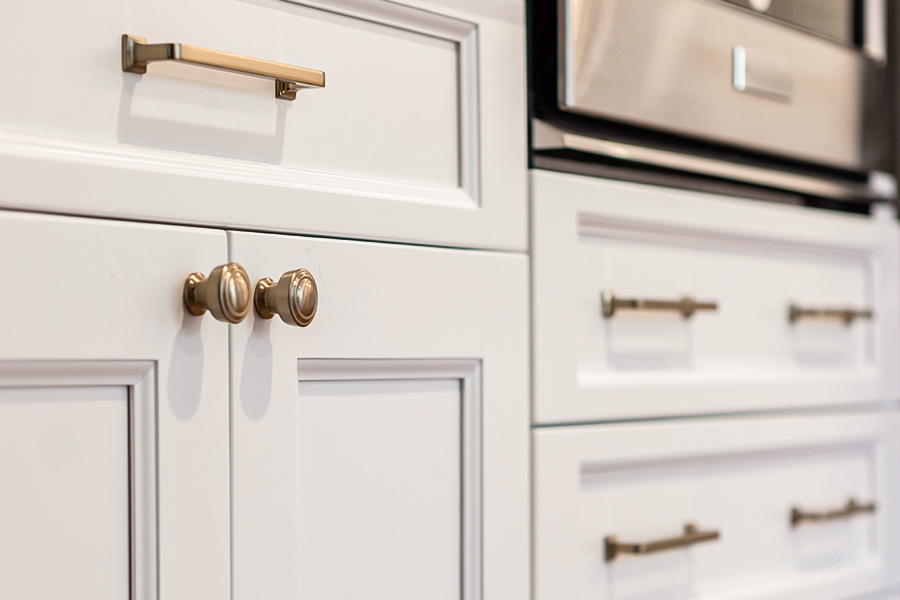 Optimize Cabinet and Drawer Pull Length with the One-Third Rule
To instantly improve any cabinet's appeal, use the 1/3 rule when it comes to modern pull drawer handles. This cabinet pull placement guide will help you with it.
Let us explain!
Modern hardware for cabinets and drawers provides a sleeker look. However, to take that aesthetic appeal further is to use pull handles for drawers that are 1/3 of the height and width of the cabinet door.
The best cabinet pulls for areas with both tall and medium-height cabinets are ones that match. Use longer ones for the taller units, and drawer pulls of medium length for smaller cabinets to complete the look.