Frequently Asked Questions
Which hinges are better: Concealed or Standard Mortised?
A) Mortise Hinges – have the classic design and can fit any room with classic design. Those hinges have advantages: 1) Affordable price which can get to almost any budget 2) UL Certification for 30 minutes fire resistance, which gives the confidence in use in difficult situations 3) High capacity for 130 lbs per 2 hinges for mortise hinges. B) Concealed 3D Invisible Hinges With the Villar Home Designs concealed hinges, the door opens smoothly and precisely up to 180°. The hinge blends seamlessly with the slab and the frame for a markedly elegant door design solution. Thanks to the symmetric milling, the hinge is reversible and allows choosing the door swing directly on the job site. It is 3 ways adjustable (XYZ) which is definitely a strong competitive advantage. The decorative cover plates conceal the adjustment screws for elegance when the door is open. Weight capacity is 135 lbs. per 2 hinges. Resource is 200 000 openings.
When 2 hinges should be used and when 3?
All doors which are 80 inch tall or less require to have not more than 2 hinges. For all doors which have a height more than 80 inches, Discount Hardware Direct recommends using 3 hinges.
How do I remove the hinge pin?
If the hinge has NRP's (Non Removable Pin) remove the setscrew. The hinge pin is removed by tapping or pressing a punch or similar tool in the small hole at one end of the hinge. Once the pin is removed the hinge will separate into two pieces.
Will a lockset and a handle fit my door?
Discount Hardware Direct locks and handles fit into a standard American style tubular door prep. If you are replacing existing locks then your door preps will most likely be correct for Discount Hardware Direct locks and handles. Just determine the backset and you're ready to order. If you're installing locks in new doors that do not have a door prep please be aware that lock sets have varying requirements for hole location depending on the type of lock and design chosen. For this reason it is best to choose your lock and give it to the door prep person to assure holes are bored in the proper location. PASSAGE, PRIVACY, KEYED KNOBS OR LEVER, AND DEADBOLT LOCKS fit into the door prep shown below. Bore a 2-1/8" hole through the door. The center of this hole should be located 2-3/8"or 2-3/4" back from the edge of the door (this is the backset dimension).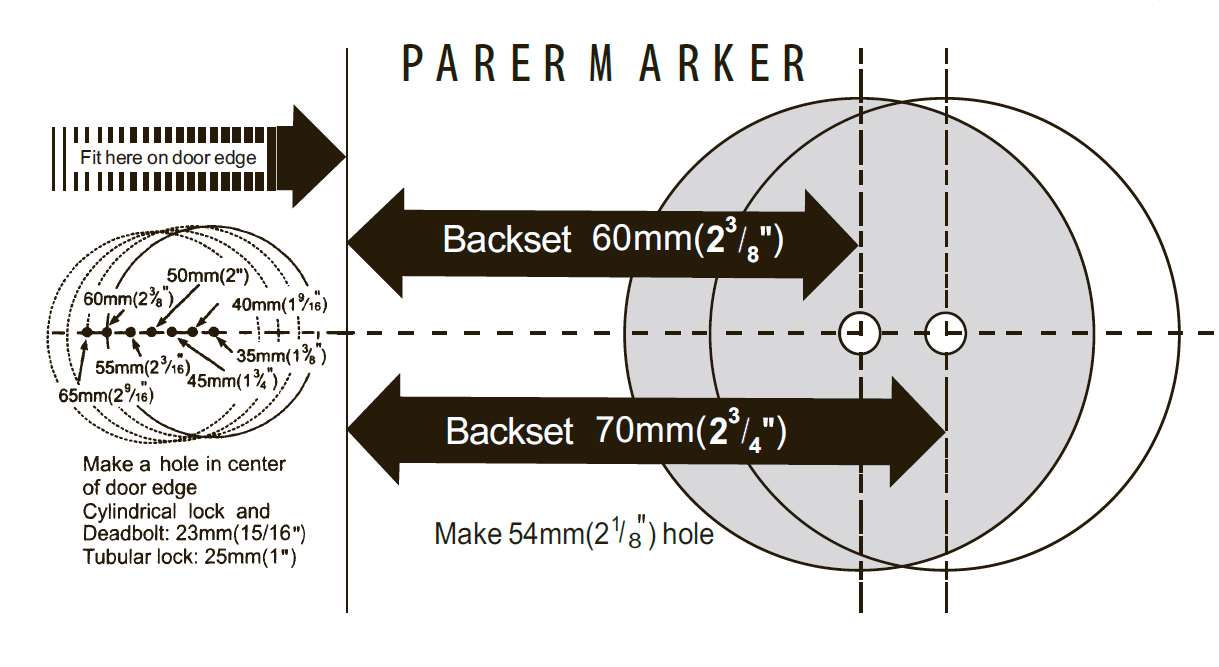 How do I determine the right handling?
All Discount Hardware Direct Handles are universal and Reversible. There is no need to determine the handling direction for DHD hardware.
If my lock is broken, should I repair or replace it?
For personal safety and security, you should always replace your broken lock with a new one.
How long does it take to install new door locks?
Most people can replace their door locks in about 15 - 60 minutes. If you're having trouble with installation, consider contacting a local contractor.
Do you have all available handle functions?
Yes, Discount Hardware Direct has all existing handle functions, which are Keyed, Privacy, Passage and Dummy. Keyed Door Knob/Lever - door knob/lever generally used for exterior applications with a keyed locking cylinder. Entrance knobs and deadbolts can be keyed alike. Privacy Door Knobs/Levers - Generally used in bathrooms and bedrooms. Privacy knobs/levers can be locked and come with a slotted tool that can be used to unlock from the outside. Passage Door Knobs/Levers - Also referred to as hall and closet knobs/levers because they are most often used for hall and closets. These knobs/levers are not lockable. Dummy Door Knobs/Levers - These knobs/levers are face mounted with screws and do not come with a latch mechanism. These are most often used for bi-fold doors or other applications that do not require a latch mechanism.
I'm not quite comfortable purchasing your door hardware without seeing it. Is there a showroom near me?
We do not have showrooms across the country... one of the reasons our prices are great. But we have our own distributors and dealers around the USA, where you can easily see the items by themselves and test the quality. You can check the list for the dealers, going the following
link
.  Also, many of our customers purchase one or two items they are interested in before purchasing the hardware for their entire home. Just order a couple of items that you would need, then when you place your entire order, you will omit the items you already have.
Do you provide a FULL SET for sliding hardware?
Yes, Discount Hardware Direct provides a FULL SET for any Sliding Hardware you choose. You need just to determine, what sliding hardware best fits your room – Pocket, Barn, Bifold or Bypass. You can also feel free to contact Discount Hardware Direct for more information and assistance.
What is covered by the Two Year Limited Warranty on Discount Hardware Direct Products?
All Discount Hardware Direct products are manufactured to the highest-quality craftsmanship standards and are backed by a limited 2 year warranty against defects in workmanship and materials. Detailed warranty information is available in the following 
link
.
How Long will it take for DHD products to get to us?
Once an order is processed, it is then shipped out via LTL (for large items) or FedEx (for smaller items). LTL shipments are curbside delivery only, unless otherwise requested. Ship times vary upon final destination, however the average is 2-4 business days for the East Coast and 4-7 business days for the West Coast. Dealers are also more than welcome to use their own freight company if needed. Please contact Discount Hardware Direct directly for all orders outside of the continental United States.
How do you deliver your products?
Discount Hardware Direct offers the convenience of direct deliveries to our committed customers. Customers must have an agent and facilities available to accept all deliveries of merchandise pursuant to orders placed with vendors for shipment to customer's office, warehouse, job sites, or any other designated location. Customer shall take full responsibility for freight demurrage, hold-over, and similar charges arising out of, connected with, or relating to customer's failure to fulfill its obligations under the terms of the clause- regardless of the origin of the shipment or the consignor. Once a delivery is received, the customer must inspect the contents of each package before signing the bill of lading. All visible damages must be noted on the bill of lading, however, it is also very important to open all received boxes and inspect the products for any concealed damage at the time of delivery. If the driver does not allow you to inspect the freight, please note that on the bill of lading. All damages must be reported to Discount Hardware Direct within 72 hours of the shipment/delivery date. Failure to comply with these rules will disqualify customers from merchandise replacement.